Works
This is a brand spanking new gorgeous collection of fun poetry for children, and June has two poems  included in it!  edited by A.F. Harrold, with beautiful full color illustrations by Katy Riddell.  The theme is:  food!  (Bloomsbury UK, 2019)
It includes works by Lewis Carroll and William Carlos Williams, along with contemporary poets like June Melby, Joseph Coelho, and Sabrina Mahfouz.
A few short works
"The Magic FFA Jacket" -- This mini-essay aired on Wisconsin Public Radio. (Hey, teachers, contact me if you'd like a writing exercise for your students based on this short essay!)
"The Story of the Tree Bark" -- if you live in a rural area, you are required to write a fairy tale that takes place on a farm. Here's mine, published in Ilanot Review.
"Bee, a fable". In Spank the Carp, issue 44.
Winner, Midwest Connections Award; New York Times Bestseller!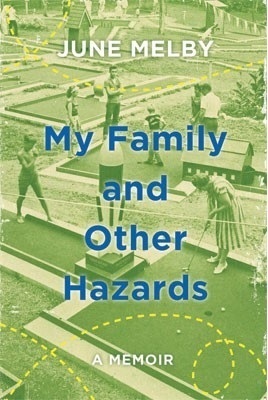 My Family and Other Hazards is a wonderful, witty account of growing up on a mini-golf course…In a droll, understated voice that recalls Dorothy Parker ... The book is packed with self-contained vignettes that have the shapeliness of a well-told joke." –Christian Science Monitor

Enchanting... An outpouring of tender, witty memories... Melby showcases her corny, unaffected Midwestern humor in this inspired work. –Publisher's Weekly

A summer delight . . . Melby's ode to Wisconsin is rich with detail. –Minneapolis Star Tribune

A winning, charming memoir about summers spent at a family-owned mini-golf course in Wisconsin. Funny and nostalgic without being sentimental, Melby deftly captures her family's seemingly endless lakeside summers and the inevitable letting go of childhood. A perfect summer book –Rob Spillman, editor "Tin House"

Witty . . . A lot of fun and enjoyable to navigate. –Kirkus

"Clever, outrageously funny . . . My Family and Other Hazards is a nostalgic look back at Melby's experiences and the inevitability of letting go of one's childhood." –Express Milwaukee
Studio recording of June's poem-songs with her band, including guitar, drums, bass, and more. These tracks are half-spoken, half sung, and include "Bonking Sound" and "Dust." Recorded in Los Angeles. Buy yourself a copy, or download at cdbaby.

A chapbook collection of poetry, ink drawings, and cover art by June Melby. Her third collection.